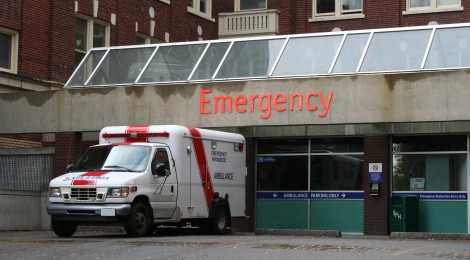 We really don't want to use the emergency department, but there are times when this is inevitable and when we have to go. There are other times when it may be avoidable but we still end up going.
We go because we need care, and it is important to understand how to best create a system that provides care in a more timely and effective manner. The emergency department is one part of a care continuum, and an important topic of study when talking about Autism Spectrum Disorders.
Dr. Yona Lunsky (Centre for Addiction and Mental Health, Toronto, ON) and colleagues recently published a study in the Canadian Journal of Psychiatry on the rates of emergency department, primary care, and psychiatric care of adults with developmental disabilities in Ontario compared to patients without developmental disabilities.  The authors examined administrative health datasets of information collected on over 43,000 adults with developmental disabilities in the province, collected over a 2 year period, 45% who had an associated psychiatric diagnosis (like an anxiety disorder, depression or psychosis). They compared rates of use between adults with developmental disabilities with and without psychiatric conditions, adults without developmental disabilities who had psychiatric conditions, and adults from the general population.
Adults with developmental disabilities and psychiatric diagnoses were less likely to receive primary care (like their family doctor) and more likely to receive psychiatric care, compared to adults with only psychiatric diagnoses. Having a developmental disability also increases the likelihood of going to the emergency department (there is a second study on predictors of emergency department use published in Psychiatric Services).
Here is a video of Dr. Lunsky describing research on emergency service use and developmental disabilities:
While Dr. Lunsky's study was not specifically on Autism Spectrum Disorders, Autism was one classification used to identify who had a developmental disability; so the lessons learned are certainly important when considering ASD.
A brief report in the Journal on Developmental Disabilities (Tint, Robinson, & Lunsky, 2011), specifically examined charts of 24 adults with ASD who accessed the emergency department in Ontario. The 24 individuals had a total of 39 emergency room visits over the study period, 30 of which were as a result of psychiatric or behavioural crises.  Almost half of the emergency department visits resulted in an inpatient admission; and when there was no inpatient admission, patients tended to go home without any follow-up plan. Clearly, more research is needed on what we need to do to improve care before individuals with ASD go to the emergency department, and on what can be done once there to ensure the best outcomes.
We (Drs. Lunsky, Weiss, Palucka, Bradley and Flores) are currently running a Canadian Institutes of Health Research funded project to understand health service use in adolescents and adults with ASD. We are following individuals with ASD and their caregivers over a 1-year period at regular intervals to see the kinds of services they need and access over time, and their experiences of emergency service use.
We are in the process of wrapping up data collection and analyzing the information we have from our initial time point. This includes presenting our preliminary findings at peer reviewed scientific conferences like the upcoming International Meeting for Autism Research and the Society for Research in Child Development Biennial Meeting.
Here are a number of Canadian resources that are relevant to highlight:
The Centre for Addiction and Mental Health Dual Diagnosis Program has posted information about what to expect when going to the emergency room, the types of assessments that are important for understanding mental health problems in adults with developmental disabilities, and some advice on using emergency services.

There is an information guide on Dual Diagnosis for caregivers, which is relevant for anyone who wants to promote mental health, and has a section on crisis and emergency rooms.
There is advice on what a mental health assessment should look for adults with developmental disabilities.
Dr. Yona Lunsky briefly describes what to expect when going to the emergency department (3:11):

Jillian Carlyle provides some advice on how to prepare for using emergency services:

Louis Busch talks about the importance of understanding challenging behaviours that may be associated with emergency services:

The Developmental Disabilities Primary Care Initiative has also put forth a tool for primary care providers and a tool for caregivers of adults with developmental disabilities. While many of these are not specific to emergency rooms, they do speak to ways that clinicians and caregivers can help collect and communicate health information. Doing so in a proactive way, while continuing to address primary medical concerns, can keep people out of the emergency department.

For caregivers:
For clinicians:

The Hospital for Sick Kids Good 2 Go Transition Program has developed a MyHealth Passport, which provides a customized, wallet-size card that gives a clinician important medical information (useful in emergency situations but also to ensure that vital health information is always available). It is a free, online process, and there is a specific form for Autism.