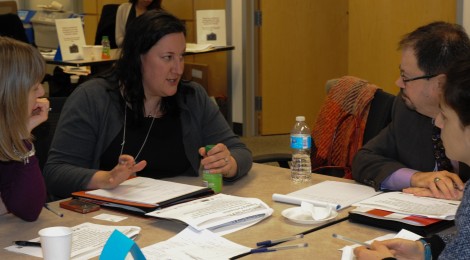 On January 29, 2013, we hosted the first Canadian Institutes of Health Research Chair Stakeholder Advisory Meeting, at York University (Toronto, ON). Fifty members of the ASD community from across Canada attended from 34 organizations, including representatives from non-profit organizations, service providers, and government agencies, as well as researchers, self-advocates, and parents of individuals with ASD.
The primary objective of this meeting was to facilitate dialogue among the community of stakeholders and inform the Chair's research directions over the next five years. For more information on the Chair in ASD Treatment and Care Research, please visit asdmentalhealth.ca.
We have created a brief report summarizing the morning presentations, the results of our group discussions, the feedback form responses, and some next steps.  Please feel free to share this report.
Participants appreciated the chance to exchange ideas and network with a diverse range of stakeholders from across the country, and to learn from researchers on topics relevant to the mental health and well-being of individuals with ASD and their families.
We videotaped the three main talks from the day to make them available for those unable to attend the event. We incorporated the PowerPoint slides within the video, and have added captions to improve accessibility.
This event was the first of many opportunities to engage in a meaningful way to inform how research can address treatment and care of people with ASD and their families in Canada. Feedback was overwhelmingly positive, and we've been active in following up on some of the key recommendations. Launching this blog is one example.
We have teams of stakeholders who are helping us to prepare and review blog posts and help conduct research with us. We are also collaborating with community organizations to evaluate interventions that are already underway to support mental health in individuals with ASD, and are developing novel treatment approaches to address challenges.
We plan to hold stakeholder meetings every year to ensure that we keep this conversation going. Stay tuned for updates on these projects!