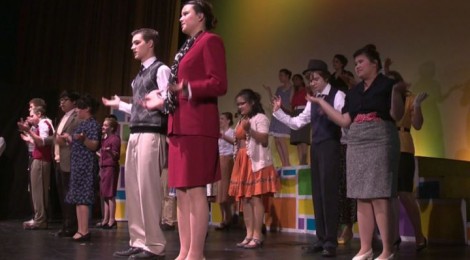 Jaden Lake (son of Mike Lake, P.C., M.P.),  a 17 year old student who has autism, recently performed in his high school musical 'Bye Bye Birdie'. Being non-verbal did not stop Jaden from being fully included as a cast member and performing with his classmates. Each practice, the group of performers completed an exercise called 'Jaden's Warm-up', which consisted of the one syllable that Jaden can vocalize. Jaden has an excellent visual memory and was very good at memorizing the choreographed dance routine as soon as it was taught to him. Using a buddy system in which other cast members helped guide Jaden if need be, the musical was a success!
Inclusion in this musical performance benefited Jaden's mood, as he really enjoyed being part of a group of warm and accepting peers. Jaden also enhanced his cast members' performance by giving them encouragements, such as high fives. This experience was able to show the other cast members that there is definitely value in every person.
Click here to view the Global News video clip about Jaden's involvement in the musical.