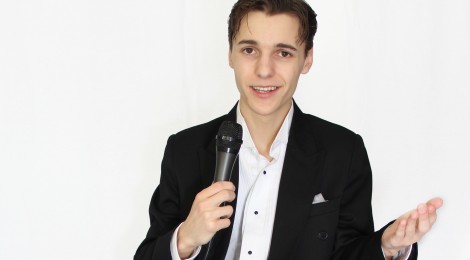 by Dr. Jonathan Weiss
Recently, I had the chance to speak with Michael McCreary, an aspiring and inspirational 18-year-old comic from Ontario, who has found something he loves to do, and with his parents'support, is doing it full force. When we talk about mental health and ASD, we usually talk about topics like depression, anxiety, or treatment. We think about problems. We focus on them.
Equally important though is to talk about happiness, success, belonging, living up to one's potential and self-determination. When I had a chance to learn from Michael and his father, Doug McCreary, I thought to myself: "Here's an example of thriving."
Question: What first drew you to being a stand up comedian? 
Response: I've always been involved in performing, from a young age in my community. My older sibling was doing a performance with a local theatre company in Orangeville, and I remember sitting in the front row thinking 'I can get into that'. The reception and the live manic energy, it was contagious. Then I got involved in school plays and local productions in the community. I ended up getting really attached to comedy. You don't have the fear of having to rely on others when on stage. I can count on myself. I know I won't drop the ball. I have a love of theatrics.
People who come to a comedy show are from all sorts of different backgrounds and they come to see someone tell jokes. We feed off of others' energy. I'm there because I want to help, I get enjoyment out of seeing others enjoy themselves. My comedy comes from an inability to stop talking –so I just turn it on and go. I just talk and I have interests and things I like to discuss. So this is a way of doing that. I got into comedy from Stand Up for Mental Health, which was about awareness and giving people permission to laugh. I wanted to satirize my own diagnosis, and people's perception of it. It's ok to laugh about something.
Question: You are travelling across Canada, performing and raising awareness about ASD, and filming a documentary while you go. What led you to decide on doing a cross Canadian tour?
Response: The birth of the project came from conversations with my folks while driving in the car. We pick a topic and laugh and make notes along the way. Mom had the idea to film our conversations: 'It would be easier to just film this and make a series about it'. And this evolved into going on a road trip and videotaping us going along.
I hope they walk away with the idea that autism is a diverse community, with people from all sorts of walks of life. With the documentary, we are going across the country and interviewing families from different backgrounds and different situations…how people just live. This is their life and their experience. They are making it work their way.
So I want people to take away from the documentary that there is such variety. And that all that variety is valued in its own way. It would be great if people were to look at things from a more human standpoint.
Question: What are your next steps?
Response: I have planned ahead. As soon as we are finished the documentary, I'm going to Toronto and going to the Second City Training Centre and honing my skills. I'd like to get back into improv and to work with a team. Something group oriented and team oriented.
I had thought the training centre was for the elite, but I discovered it was open to newcomers and people just starting out. So I went to an open house. I did this thing called musical improv, and I thought 'I can't do it', but then I went there and did it. It was a silent victory. So I'm looking forward to the Training Centre.
It's also the first time living outside of my family home. This bigger challenge will be 'autism in the big city,'and it's going to be exciting. This is my transitional period.
Question: What advice do you have for other aspiring young adults with Asperger's or ASD? This blog focuses on all things related to ASD and mental health. It seems to me that you are doing something that you love, and at the same time are making others laugh – both important ways of promoting wellbeing and mental health. Do you have any thoughts on how others with ASD can keep themselves happy and healthy?
Response: If you are in love with something, adore something, are intensely involved, or fixated or honed in on one thing- I want to say don't let anyone take that away. No one has the right to have you have to broaden things. If you have at least just one dream, and you adore it and it is part of your routine, then no one has the right to take that from you. And you should have that for your entire life.
Michael McCreary is touring across Canada from September 21, 2014 to November 3, 2014, check him out at a venue near you! This includes opening for Dr. Temple Grandin at the Geneva Centre International Symposium on October 24, 2014, at the Metro Toronto Convention Centre and being the Kick-Off Event for the Donald Cohen Autism Practice, Policy and Research Series for the Montreal Children's Hospital Foundation on October 17, 2014 at Moyse Hall.
This interview was conducted by Dr. Jonathan Weiss, September 2014.