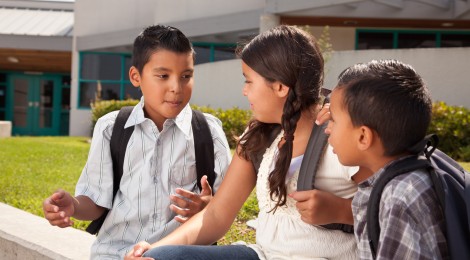 Bullying is a widespread problem among school-age children. In particular, current research has shown that students with High Functioning Autism Spectrum Disorder (HFASD) experience high rates of bullying. In fact, students with ASD have been shown to experience higher rates of bullying than their typically developing peers, as well as students with other disabilities. This is especially concerning given that students with ASD experience high rates of co-occurring mental health issues, and bullying is one phenomenon that has been shown to lead to many negative outcomes, such as mental and physical health issues, as well as poor academic achievement.
In collaboration with the Autism Spectrum Education, Research and Training Group (ASERT) at the University of Calgary, a new study aims to explore potential risk factors for bullying among students with HFASD, so that we can better understand those factors and work towards developing interventions. This team of researchers is also interested in learning more about the coping strategies that students use to help overcome bullying. Even students with HFASD who have not been a target of bullying are encouraged to participate so that we can gain an understanding of the unique factors that these students may possess that have allowed them to avoid this unfortunate experience.
The research study will take place at York University from May 1st to May 5th, 2015.
We are currently looking for children between the ages of 8 and 17 with HFASD, their caregiver and a teacher to take part in this study. Participation would involve the child engaging in simple game-like tasks as well as the completion of questionnaires (approximately 3 hours). Parents and teachers are also asked to complete questionnaires regarding the child participant (approximately 1 hour). Children who participate will receive a $25 gift card. Snacks and Free Parking will also be provided.
If you are interested in participating, or if you would like more information about this study, please contact Alyssa Altomare at asert@ucalgary.ca.