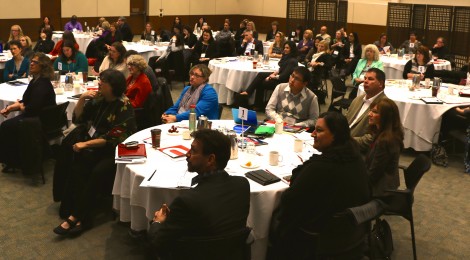 On November 7, 2014, we hosted the second Canadian Institutes of Health Research Chair Stakeholder Advisory Meeting, at the BMO Institute for Learning (Toronto, ON). Sixty-five members of the ASD community from across Canada attended, including representatives from non-profit organizations, service providers, and government agencies, as well as researchers, self-advocates, and parents of individuals with ASD.
The primary objective of this meeting was to inform the community of stakeholders about past, ongoing and new research projects, and to develop and understanding of how to further work with communities and stakeholders to foster impactful research. For more information on the Chair in ASD Treatment and Care Research, please visit www.asdmentalhealth.ca.
Throughout the day, attendees heard from the Chair's research collaborators and members of the ASD community about various projects and initiatives that are currently taking place. The Hon. Jim Munson (Senator) and the Hon. Mike Lake (MP, Edmonton – Mill Woods – Beaumont) also delivered passionate addresses on the importance of generating awareness and supporting Canadians with ASD across the lifespan. Stakeholders had the opportunity as well to engage in group discussions, and provided recommendations for future directions of the Chair in the areas of research, collaborations, and knowledge mobilization activities.
This stakeholder event was one of many opportunities to engage with the Chair in a meaningful way to discuss how research can address treatment and care of people with ASD and their families in Canada. We are actively developing research projects to focus on the priority areas outlined at this year's meeting, including collaborations with service providers. We plan to hold stakeholder meetings every year to ensure that we keep this conversation going. We look forward to updating you on our progress over the next few months!
We have created a brief report summarizing the presentations, the results of the group discussions, the feedback from participants, and some next steps. Please feel free to download and share this report.
---
The Chair in Autism Spectrum Disorders Treatment and Care Research is funded by the Canadian Institutes of Health Research in partnership with Autism Speaks Canada, the Canadian Autism Spectrum Disorders Alliance, Health Canada, NeuroDevNet and the Sinneave Family Foundation. Additional funds from the Spectrum of Hope Autism Foundation and support from York University and the ORION'S O3 Collaboration.
Photo Credit: Dr. Anneliese Poetz (NeuroDevNet KT Core)