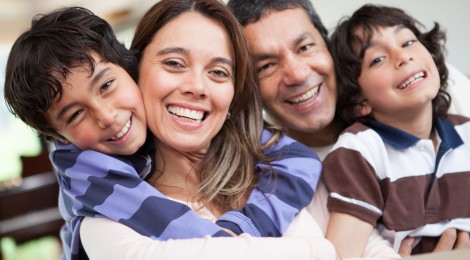 May 11, 2015 – A sense of wellbeing and what constitutes it as a state is highly variable, both in individual experience, and in the scientific literature.While this means it is challenging to assess, it is also critical to understand if researchers mean to develop  interventions that really help children with autism and their families in ways that matter across the lifespan.
In the course of researching "Family wellbeing of individuals with autism spectrum disorder: A scoping review" published May 8 in the Journal Autism, Dr. Jonathan Weiss, Canada Chair in Autism Spectrum Disorders Treatment and Care Research and graduate student Ami Tint reviewed 86 articles in mental and medical health. "We wanted to see if we could come to an overall understanding of what people mean when they say, 'we're studying wellbeing', " said Weiss.
"We looked at how it's being being meaured and defined across many different studies. Heterogeneous is a kind way to describe the literature at the moment," he added. "But it's critical to understand states of wellbeing – what leads to it, and what  takes away from it, and important to what we are all doing in research and clinical care settings."
There are decades of research, Weiss said, in which parents of children with ASD report lower senses of wellbeing than parents of children with other kinds of disabilities and parents of typically developing children. "It's particularly important to understand it's not an all-or-nothing situation – not every parent of a child with ASD has decreased wellbeing – that's too simplistic," added Weiss. "The real question is why some people have more wellbeing than others."
Many researchers talk about different things when they talk about wellbeing: people will talk about stress; others will talk about measuring happiness; still others will measure quality of life. "I hope that this paper is a call to arms for the field to come to an agreed-upon notion of what we are measuring in research," said Weiss, whose lab at York University has been studying various components of family wellbeing for some time.
In his new NeuroDevNet-funded study of the impacts of mindfulness training for both youth with ASD and their parents, Weiss added, "we're certainly interested in the benefits teens experience, and equally important are the changes parents go through."
These changes may be measured in different ways as the researchers track the intervention over the course of the study. "People may be tapping into wellbeing in different ways. When they're experiencing stress, they many have more skills to handle it in their daily life," said Weiss. Its also important and different to assess mental health issues, such as anxiety and depression, and also, more specific to what would be expected from mindfulness training, awareness of emotions."
One group of parents and teens has completed the mindfulness training protocol, a second group is scheduled to run in January 2016 at Weiss's York University lab.
---
This article was originally written for and published on NeuroDevNet – News & Publications.